Breakouts. They get the best of us from time to time. But why? And what the flip do we do about them?!
Of all the skin problems, acne is the most common. Acne is characterised by the presence of blackheads, whiteheads (pustules), red papules (small red, bumpy pimples), nodules and / or cysts. And the problem can get worse because of:
hormones
keratinisation - the hardening of the protein keratin in the outer layers of the skin.
sebum - the waxy oil our skin produces for lubrication and protection.
bacteria - Propionibacterium acnes is the main causative bacteria, altering sebum production and promoting inflammation.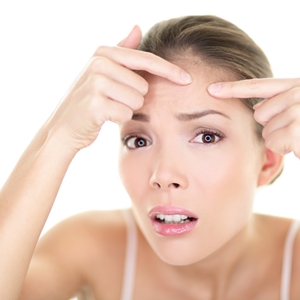 So keeping our skin clear and glowing holistically is obviously a multifactorial process.
Ensuring the right nutrition (which means NO concentrated, refined carbohydrates, trans fats or iodine-containing foods) and supplementation (Zinc, Vit C, Vit E and Vit A are big yeses!) is a great and very important start.
But here are my top skin clearing product recommendations:
1.  T E A   T R E E   O I L
Melaleuca alternifolia, known more commonly as Tea Tree, is a narrow-leaved paperbark tree native to Australia. It's essential oil - extracted from its leaves - is pretty famous, and is quite a remarkable skin clearer. With antiseptic, anti-fungal and disinfectant properties, it is well absorbed by the skin, almost always without causing irritation. There are 32 strains of the P. acnes bacteria, and Tea Tree oil is effective against a whopping 27 of them! The stronger the solution, the better - use a strong (up to 15%) tea tree solution for the best results.
I use Tea Tree oil as an occasional all-over skincare treatment oil, or apply it directly to any pesky breakouts should the need arise. I'll also add a drop or two to my facial oil or moisturiser most days, just to prevent any future breakouts.
2.  H E R B S
I love herbs (could you tell?). And Calendula, Chamomile and Lavender are particularly loveable for clear skin. Others include Poke Root and Barberry. 
Calendula officinalis, or Calendula, works primarily as an anti-fungal and antiviral when used topically - making it a great herb for treating skin conditions like acne, eczema, rashes, wounds and sores. Calendula is also a proven antibacterial and anti-inflammatory, and helps to heal and recover skin.
Chamomile, aka Matricaria recutita, assists in soothing skin and calming any irritation and/or inflammation. It is also useful in the prevention of blackheads, and in treating acne scars.
Lavender (Lavendula angustifolia), and its essential oil, is used extensively in skincare, but it is a particularly helpful herb in killing breakout-causing bacteria, neutralises redness, soothes irritation, and restores damaged skin.
 3.  O I L S

Hold up. Oils on oily skin? Before you accuse me of sounding 110% crazy...it makes sense. Back at the beginning of this post, I let you know about altered sebum production, and how that can cause breakouts and acne. So why not trick our skin into believing it's already lubricated and hydrated enough, stopping excess sebum in its tracks?! I'm not talking about any old oil, though. If we're really going to trick our skin, we need to make it convincing.
Jojoba Oil is commonly used to hydrate and soothe skin. Not only does it boast anti-bacterial, antioxidant and anti-inflammatory properties, making it a great breakout buster, but it is also so similar to the skin's sebum that it is easily absorbed and accepted by the skin.
Coconut Oil is another all-natural option. And, like Jojoba Oil, Coconut Oil is anti-bacterial and anti-inflammatory in the battle against the breakouts (and lots of other skin complaints, like eczema, too!). If you're choosing to use Coconut Oil alone, be sure to avoid using too much - although it's great at battling inflammation and breakout-causing bacteria, it may clog your pores if there's too much!
Our Clear Skin Balm contains all of the above to help you master DIY clear skin. Stay tuned as we launch more products in our Clear Skin range - you can bet your bottom dollar we'll be featuring more of these fab ingredients ;)!
References:  'The Ultimate Herbal Compendium' by K Bone, 'Research Journal of Medicinal Plants' by Academic Journals Inc. & 'The Clinician's Handbook of Natural Medicine' by J Pizzorno, M Murray, H Joiner-Bey.